The 2023 Ventana Research Buyers Guide for Agent Management research enables me to provide observations about how the market has advanced.
Agents are the foundation of the contact center processes that impact every customer experience. These processes, and the customer service function, must be able to operate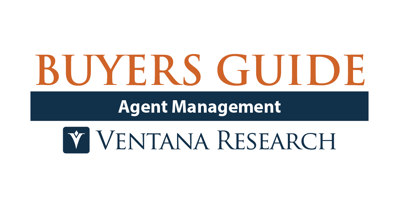 from any location, at any time, and agents must be able to respond to customers via any communication channel for any request. Optimized contact center processes feature agents who are empowered to take action on behalf of the customer and who are supported by technology that supplements, guides and extends the productive capacity of the workforce. During challenging periods, contact centers must be ready to operate across all communication channels in a scalable way to meet spikes of inbound demand.
A focus on workforce agility will enable the organization to adapt, shift focus and continue to meet customer service expectations even during challenging periods. Organizations can improve the agility of their agents through continuing education programs, offering learning paths that prepare individuals to shift tasks when necessary. Workforce flexibility, particularly within customer service, requires a focus on digital readiness and the implementation of tools that engage the agents and allow them to adapt and support customers as needed during disruptions to the standard working environment.
To improve the agent experience within the organization, focus on the agent work environment and on the digital experience for agents as they engage with customers. The physical work environment has an impact on the agent experience, and organizations must be prepared to support agents who work from home or other non-centralized locations. But perhaps even more important is the digital work environment — the agent desktop and other tools available to agents no matter where they are physically located. The quality of these tools helps determine the level of satisfaction an agent has while engaging with customers, and the complexity of legacy systems can be a detriment to agent performance and, subsequently, their retention.
When the agent experience is hindered by the tools the agent has at their disposal, the experience provided during customer interactions will suffer. Thus, optimizing the agent experience is a critical step in the delivery of a superior customer experience. Several factors in the work environment are usually the issue, among them the tools the agent uses to work with customers and resolve their issues. Key among those tools is the agent desktop, which is the digital center of customer interactions and the gateway that provides access to the individual applications the agent needs to deliver service.
The desktop supports direct dialogue with customers and provides the agent with visibility into, and information about, all the interactions that comprise the customer journey; it is essential for effective dialogue with the customer. And it allows agents to monitor and assist intelligent virtual agents. When properly utilized, the desktop acts as the hub that provides fast, easy access to all applications the agent needs to serve customers.
In the same way that organizations have focused on optimizing the customer experience by using a tool known as the voice of the customer to gain feedback and understand customer sentiment, they are beginning to look at the value of an analogous tool, the voice of the agent, to help optimize the agent experience. Addressing the voice of the agent includes listening to the challenges that agents themselves identify and the needs that agents report, instead of just focusing on targeted efficiency coaching.
Elevating agent concerns to the same level of importance as customer concerns can accomplish a number of important goals. It demonstrates to agents that the organization cares about their challenges and needs. It can enable the organization to target specific issues impacting the comfort, satisfaction and efficiency of subsets of agents, down to the individual. And when agent feedback relates to the tools they use, improving those tools can help improve agent recruiting, motivation, performance and retention, which in turn improves the customer experience.
Agents' ability to provide memorable, personalized experiences to customers often is hampered by technological limitations. Legacy agent desktop and CRM systems are still in use at many organizations, and this creates challenges for today's contact centers. Modern desktops should provide a single point of access to the several applications used in interactions with the customer, but in most cases, agents need to use many applications with the agent desktop to resolve customer issues.
A modern agent desktop must unify an array of disparate sets of data to sufficiently empower the agents to be responsive to customer needs, but in many instances, agents are forced to navigate to multiple applications individually/separately in order to resolve customer issues. There is ample evidence that limited agent visibility into the history of interactions can result in customer frustration and dissatisfaction. This constraint reduces responsiveness and the ability to personalize agent-customer interactions.
When seeking to optimize the customer experience, organizations have traditionally focused on metrics related to interaction durations or transaction outcomes rather than metrics related to the customer's experience. The historical focus on average handling time (AHT) and first call resolution (FCR) have led to management efforts that push agents to operate quickly and handle more interactions, and it has encouraged coaching focused on how to improve agent operations within the parameters of inadequate desktop technology.
The adequacy of the data available within the agent desktop has a direct impact on the agent's experience, as does the actual design and usability of the desktop. Clumsy and cluttered desktops can be improved by deploying modern web- and cloud-based applications and adopting a unified desktop approach. Modern-generation agent desktops can be individually configured to match the particular skills and experience of the agents using the system. For example, an inbound interaction can be routed to an agent who has the appropriate skills to respond to the known issue and who is provided with the relevant customer information so there is no need to search across systems while assisting the customer. In fact, "intelligent" agent desktops will anticipate what the customer might need and prompt the agent using predictive intelligence and machine learning (ML) technology.
When the agent desktop is optimally configured and provides rapid access to all needed information, it simplifies the agent's work and so improves that experience for both the agent and the customer. Modern agent desktops can connect to information sources from across the organization and provide dynamically generated information and potential responses derived from the context of interaction. The desktops can also automatically channel the agent response to the customer's preferred mode of interaction and provide visibility into the customer journey touchpoints across connection channels. When the agent desktop rests on a unified customer data platform, it can quickly provide the contextual information an agent needs to personalize the interaction with the customer.
Providing agents with the tools they need to improve the customer experience can improve the agent experience. Agents who feel empowered by their tools rather than at odds with their technology are more likely to deliver better customer experiences and will be less frustrated, fatigued and burned out. Furthermore, modern systems can provide performance analytics to deliver up-to-date information to the agent on their performance and suggest areas for improvement.
The pandemic created the circumstances for a complete reassessment of the tools and processes used in contact centers to manage agents. In short order, an entire industry's fundamental assumptions about technology and best practices were called into question by the need to remove workers from crowded centers into home environments, a situation that persists today as a matter of preference.
We define agent management as the set of tools used by an organization and its contact center, including supervisors and managers, to engage with and optimize the performance of their customer-facing professionals. Agent management includes workforce management, which is primarily scheduling agents and forecasting volume; quality management, including interaction recording, agent evaluation, coaching and performance measurement; tools that measure and facilitate the agent experience, such as feedback; and the management of the agent desktop environment.
Today's agent management offerings have expanded, incorporating modern features that support agent guidance and assistance, gamification, collaboration, the use of artificial intelligence (AI) for evaluations, hiring and interview, workflow and automations, handle remote or hybrid workers and analytics with more sophisticated KPIs. Ventana Research believes that the necessity of agents, humans or machines, requires a focus on agent management and that some vendors are moving faster than others to recognize and implement the shift for most effective customer engagement.
With the agent pool now often dispersed from the main location, centers need to provide agents with different kinds of collaboration and communication tools so they can work in teams and be adequately coached by supervisors. They need things like video for internal meetings and training, and the organizations need process automation systems to ensure that out-of-sight agents follow set procedures and do not become disconnected from the overall strategy.
The pandemic was a dramatic accelerant for trends that were already in play. Chief among them has been the development of AI/ML systems. The impact of AI/ML on contact center technology cannot be overstated: it plays a role at every stage of the customer's journey and touches agents at every stage of their job. AI/ML has improved processes and access to information/information flow in myriad ways: it produces better schedules for handling combined voice and digital interactions; it provides more accurate answers to customer questions; it supplies insights on sales opportunities that agents might overlook; and it enables fully automated evaluation of an agent's entire call history, rather than just a random sample.
Ventana Research asserts that through 2026, technology for agent management will expand beyond tracking and performance measurement to include a wide array of AI-enhanced tools. The following are examples of use cases in agent management that buyers should explore. Each is supported by multiple vendors in the marketplace, making it possible to compare approaches.
The same AI models that generate conversations for self-service chatbots are used to create interaction summaries, dramatically cutting after-call work time for agents, a major cost savings.
Recordings of calls and text transcriptions of digital interactions can be evaluated for quality by automated AI so that an agent's evaluations are not based on a small random sampling of calls. This reduces bias, speeds up feedback and increases the chances that an agent will be able to use the feedback to improve subsequent performance. If feedback is available in real time, agents can take immediate steps to recover from a poor interaction.
Agent guidance and assistance systems promise to empower agents with suggestions related to three key areas: the customer's intent, knowledge resources relevant to an inquiry and processes related to compliance that must be followed.
This Buyers Guide research examined vendors that provide agent management systems both independently and in packages that include contact center routing features. Most of the independent vendors concentrate on the agent experience without offering interaction routing or any of the communications/telephony aspects for operations. In fact, many of the vendors that offer complete platforms use these specialists to provide their capabilities in white label or OEM relationships to contact center providers. It is more likely a contact center vendor with a routing platform will be using a third-party's agent management tools whether they know it or not. Buyers should take care to investigate which agent management vendor is aligned or is being embedded within which contact center routing vendor.
Our research had specific product evaluation criteria for capabilities in agent management that included workforce management (primarily scheduling agents and forecasting volume), quality measurement (interaction recording, agent evaluation, coaching and performance measurement), agent experience and feedback, agent performance management and agent desktop. Beyond that, we also evaluated features related to agent guidance and assistance, gamification, collaboration and much more.
Organizations should note that the term "agent management" as defined above is very closely related to terms common in the industry, such as "workforce optimization," "workforce engagement management," and "agent performance optimization." We believe that our definition presents the clearest guide to the specific capabilities required for effectively running the agent portion of a contact center and that other industry definitions, while useful in certain contexts, do not provide a complete enough picture of the full spectrum of needs for the modern workforce.
This report evaluates a subset of the overall vendor pool that offers dedicated agent management platforms: 8x8, Alvaria, AWS, Calabrio, Content Guru, Five9, Genesys, LiveVox, NICE, Playvox, Talkdesk and Verint.
You can find more details on our site as well as in the Buyers Guide Market Report.
Regards,
Keith Dawson