Field service is one element of the service-delivery process that an organization must get right or risk alienating important customers and causing friction in the relationship. The customer experience is directly affected by the timeliness, speed and accuracy of on-site work. Consequences of poor performance can hurt revenue, particularly in B2B situations where failures may cause expensive shutdowns or delays in conducting business.
Field service management technology and processes were advancing steadily in the 2010s, leveraging mobile technology and location awareness to provide better cost control over a scattered workforce and allowing for more efficiency in dispatching resources. The pandemic forced some retrenchment, as on-site visits became difficult for both technicians and customers. Even in this environment, though, progress has been made by turning to remote monitoring, video and augmented reality tools to reduce the number of on-site visits to an absolute minimum. Also in the mix has been attention to outfitting field technicians with appropriate PPE and to cleaning and sanitation regimens.
Successful customer experience (CX) vendors are finding that field service is an excellent use case for a variety of technologies and tools because it has many deep connections to contact centers, particularly around case tracking and customer communications. Effective field service also requires sound data management policies and tools that are often already being evaluated in other contexts, like CDPs, knowledge management and asset management repositories. We are also seeing applications that use artificial intelligence (AI) and machine learning (ML) to predict when and where faults will arise and better prepare tech teams and customers for repair incidents.
If there is any common theme to the way field service has recently evolved, it is that vendors are focusing on how to deepen the connections between different parts of the service process. For example, vendors with broad service portfolios, like Oracle, Salesforce and ServiceNow, are taking a holistic approach that integrates the communications elements of customer service and support that occur in the contact center with back-office functions in asset management (for example, parts inventories) and subscription management (overseeing contracts and warranties).
Increasingly, field service operations are working in parallel with contact centers, drawing from the same underlying customer, product and transaction data, and knowledge bases. But more than most service delivery operations, success in field service is very outcome-based. The metrics used to measure success are similar in some respects, especially those like first-time fix rate and average time to repair, that echo handle time and first-contact resolution. Field service adds cost-control metrics, like truck rolls per customer and tech utilization or drive time, that are unique to this process and that need to be tracked and analyzed alongside traditional contact center productivity.
Many organizations are putting resources into upgrading their field service capabilities with better technology that boosts the effectiveness of field technicians, and allows managers and dispatchers to better measure the process and use field service as a way of enhancing the customer relationship through positive on-site experiences.
For example, though video has had a moment in the sun due to the pandemic, it has been growing in importance in technical and field support for quite some time. It can be used at multiple stages in the support process such as sharing demonstration videos between agents (or self-service systems) and customers prior to a site visit. Visually walking customers through diagnostic processes with (or without) agent guidance can reduce the need for visits and when needed, allow a technician to arrive on site better equipped to solve a specific problem.
Another area of increased interest is an offshoot of the revolution in internet of things (IoT) technology. In some vertical industries, like manufacturing and healthcare, IoT provides a way to remotely monitor the performance of expensive and high-criticality equipment. When a fault is detected, systems can automate the process of opening a case or ticket and then begin the tracking process. In an even more modern twist, some vendors are now combining remote monitoring capabilities with an AI-based evaluation of comparable segments of a customer base to ask the question: which customers have the same equipment in a similar state? By predicting where issues may emerge, and proactively communicating preventive solutions on a wide scale using outbound notifications, an organization can remove the element of surprise and distress from the customer experience, while at the same time flattening the peaks and valleys of resource distribution.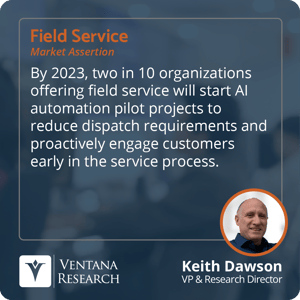 Ventana Research has asserted that by 2023, two in 10 organizations offering field service will start AI-automation pilot projects to reduce dispatch requirements and proactively engage customers early in the service process. Clearly, we are in the early days of this process shift, but the benefits of taking these steps are evident and we expect them to emerge as differentiators for companies that provide complex technical on-site service to their customers.
CX vendors should assess how complete their field service offerings are, especially with regard to the integration of traditional ticket tracking with more advanced innovations in AI, augmented reality and predictive analysis. In some cases, they may find that their existing tools are basic and can be improved through integration with other CX software.
Vendors should also include field service processes when they consider the data management strategy they offer to potential buyers. CDPs, CRM and a 360-degree view of customers are great for transactional CX in the form of brief interactions, but to track complex site visits and the service implications, vendors should describe how well their data and analytics tools include asset and knowledge management features and how integrated they are into the rest of the CX landscape.
For their part, buyers should also be thinking about how data moves during the field service process. One of the weakest links in all of CX has always been the handoff between a consumer-facing organization and its installation or on-site technical support partners. This process is often plagued by miscues resulting from incomplete data about customer products, configurations, and mundane but preventable problems like not having appropriate parts on the truck. Instead of viewing field service as a function separate from the interactional service delivered by a contact center, organizations should think holistically, unifying processes. This has the effect of reducing costs, overall, and allows an organization to think about field service delivery as a potential revenue generator, if not also a competitive differentiator.
Ventana Research's Customer Experience expertise area features more information on technologies that are affecting service delivery, including these Analyst Perspectives:
Regards,
Keith Dawson