The pandemic has raised the stakes for self-service in every part of the customer journey. In 2020, the customer service industry underwent a shock to its collective system by pulling up stakes and moving agents to remote work. At the same time, consumers moved away from in-person interactions in stores and branches. This systemic disruption has led to longer call wait times and tougher interactions because collaborating and accessing company data systems from outside the office is difficult.
This shift has understandably put a strain on self-service processes. Fortunately, organizations that urgently feel that strain now have access to technology for building more sophisticated and intelligent self-service systems.
For as long as there has been organized customer support, businesses have tried to use self-service to control costs by deflecting calls away from agents. That has never changed, and likely never will, but modern technology is adding new wrinkles to the equation. Intelligent virtual agents (IVAs) are several evolutionary steps beyond the standard touchtone or speech-enabled Interactive Voice Response (IVR) most contact centers use and step into the realm of digital self-service using machines to assist in the interactions.
One of the most important changes in the new self-service model is that it is not seen solely as an opportunity to save costs through call deflection. Because the methods of delivering automated self-service vary so widely, it is harder for an organization to control the outcomes than with an older IVR used in call centers. Automation and intelligence have elevated the self-service interaction by making it both more personalized and open-ended. Organizations should look at the expansion of self-service as an opportunity to add transactions, conversations, feedback and sentiment analysis to interactions that don't involve the cost and time of a live agent.
The industry is still in the process of educating the marketplace about what features exist in the different flavors of digital self-service tools. Self-service exists on a technological spectrum, ranging from those old school IVRs to basic chatbots, real intelligent agents for customers, and applications of that same technology to agent guidance. The technology and use cases are evolving so quickly that there aren't hard and fast boundaries between these tools as market segments. Rather, they all co-exist within technology portfolios of vendors, ready to be cherrypicked and deployed based on the comfort level of an organization's buyers and their perception of what their consumers prefer.
Intelligent virtual agents are characterized by their ability to converse with humans in an automated, yet intelligent manner, carrying on a dialogue that resembles a live agent because it can pivot, branch out and stray from the original topic in real-time. IVAs can access data sources for complex interactions, much the same way a live agent would perform a lookup, by ascertaining the cause of the query using natural language recognition. In either a voice or text interaction, many IVAs can use predictive algorithms to anticipate customer needs and enable what we call "conversational computing."
IVAs are an example of how self-service tools are being improved through machine learning and AI. What distinguishes an intelligent virtual agent from an IVR is its ability to learn from experience and to swerve topically as the customer moves from one issue or question to another. No longer confined to tree-based logical structures, modern virtual agents are an important element in the attempt to use self-service interactions as moments of leverage, moments when a business can capture extended data about the customer and context, and either provide a better experience as a result or turn a service interaction into a sales opportunity.
Many organizations have experimented with pieces of the technology that make up the IVA spectrum, notably in the boom of automated chatbots and especially in marketing over the last five years. And interest is growing. IVAs are more of a complete digital self-service tool than the piecemeal approach prevalent in the recent past. IVAs appear to be constructed by vendors with more connections to back end data, and with more flexibility in how they are deployed and managed. The current generation of virtual agents is generally easy to maintain, using graphical design tools to manage interaction flows and data connections. Many need more work to improve the context and depth of the interactions using knowledge management.
The growth in the marketplace is also due to growth in cloud contact center platforms. As Contact Center as a Service (CCaaS) becomes an acceptable deployment model for more mid-level contact centers, vendors in that space are taking advantage of the cloud's scalability to create innovative software applications, sometimes using AI and ML, to differentiate from one another.
The self-service use case for IVAs is straightforward. They extend self-service access from voice to multichannel interactions while providing customers with more options along the way. They capture all interaction data and can pass the history to a live agent if needed. Interactions become more streamlined, and transfers (when they occur) are stocked with a full trail of information so neither customer nor agent must start from scratch.
Because they are built on the same model as IVR (i.e., they stand in as gatekeepers before or instead of a live agent), they provide the same cost-savings benefits through call deflection and by flattening out spikes that require having larger agent pools on standby.
For many practitioners of customer experiences like contact centers, deploying an IVA is their first encounter deploying AI and ML technology. It exists in other applications, primarily in analytics and marketing related CX activities, but contact centers have had relatively little exposure to it so far. Use cases for AI do include some applications in agent management (mainly scheduling and forecasting volume), and in knowledge management. But often, deploying intelligent self-service is where CX technology buyers first get their feet wet.
As AI becomes more ubiquitous in all sorts of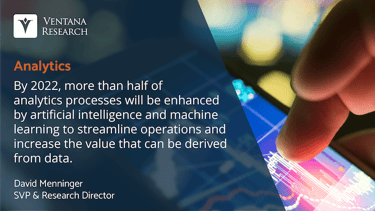 technologies, self-service will emerge as its primary use case in contact centers for the foreseeable future. We assert that by 2022, more than half of analytics processes will be enhanced by artificial intelligence and machine learning to streamline operations and increase the value that can be derived from data. The contact center is still just at the beginning of that process.
And that is why we also assert that through 2024, one-half of organizations, realizing their IVR and telephony technology is incompatible with positive customer experiences, will replace their contact center-in-the-cloud technology. We expect that IVAs and other pieces of the intelligent, automated self-service technology basket, will be the main replacement for those older IVRs.
IVA technology also extends the control that managers have over the customer's journey. The customer can choose to cross from voice to digital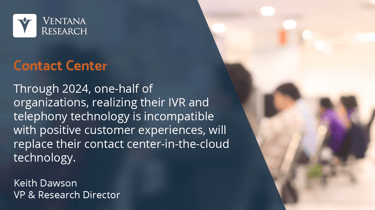 channels and remain somewhat corralled into an environment that is tracked and process oriented. It captures the customer within a self-service fence that is flexible and vetted. It moves them away from being truly self-directed in ways the organization cannot control or influence. Instead of just Googling or calling for help via social media or word of mouth, they get information from inside the organization that is consistent and accurate.
It also broadens the types of conversations organizations can have. They can be start and stop, asynchronous interactions that happen on the customer's timetable, allowing agent-like service without the expense of extra agents.
Evidence in the industry suggests that IVA usage boosts the metrics that contact centers care the most about: those that are related to costs and efficiency like handle time, after-work time, call abandons and both customer and employee satisfaction.
IVAs are in an early stage of the large-scale automation of customer engagement and interactions. They will never replace agents for all interactions; the human touch is too deeply ingrained and valuable for many sales and service situations. But the technology that provides customers with conversational self-service can also be used to assist agents behind the scenes—surfacing relevant documents or data that relates to a specific customer or problem, for example. And most exciting, providing agents with suggested next-best-actions based on what the AI discerns as the customer's intent or sentiment.
We expect that IVAs—and an array of related self-service automation tools crafted across vertical industries—will become the norm within a few years. Many responsible for customer engagement, such as contact centers, have been accelerating their investments to support self-service due to the pandemic. Often, the tools used today are outdated and have not adapted to the new requirements in operating across mobile devices. Organizations depending on outdated IVR may believe it is enough but moving to the cloud—and moving agents to home—opens the door to a wholesale reconsideration of the tools and processes involved in self-service. We are experiencing a once-in-a-generation digital overhaul that amounts to an opportunity to refit newer, better self-service practices alongside the existing agented system. Before too long, with smarter tools in place, both customers and businesses will see strong benefits.
Regards,
Keith Dawson