The Internet of Things describes machines and objects that are enhanced with sensors and communication connections, enabling them to report on their operational status, including outages, faults or threshold conditions that require attention. The technology has gradually made its way into business and consumer systems over the past decade. Today, these connected devices are playing an important role in customer experience processes such as field service.
IoT is sometimes seen as a boon to the delivery of customer support. It has the potential to enable proactive outreach via an early warning, alerting customers before they notice that something needs service. That, in turn, is thought to increase customer satisfaction and speed to resolution. When a device "calls home" because of a malfunction or service need, a business can reach out to the customer via text, email or a voice call to schedule a site visit or facilitate ordering a part.
IoT is found in both business-to-business and business-to-consumer contexts. In each case, the service ramifications are significant. It is common for service functions to be built into industrial machinery, especially medical devices and systems used by utilities. On the consumer side, communication capabilities are, by definition, built into internet routers, modems and home security devices. It is also increasingly common to find smart TVs and other entertainment devices that have some ability to reach out and signal a problem. In addition to service needs, many consumer devices may also reach out to supply usage data and demographic information for sales and marketing purposes.
I've previously written about the potential customer experience challenges of field service, often delivered as a series of disconnected visits and handoffs that frequently fail to resolve issues the first time. Because it's a high-risk moment for service providers, the introduction of device automation has the potential to reduce much of the friction in the experience.
IoT is part of a constellation of technologies – including artificial intelligence and workflow automation – poised to transform how service is delivered. This transformation has the power to upend many of the traditional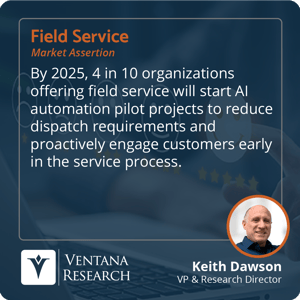 metrics and key performance indicators used to define success. Ventana Research asserts that by 2026, 4 in 10 organizations offering field service will start AI automation pilot projects to reduce dispatch requirements and proactively engage customers early in the service process. Many of these projects will have IoT or connectivity as part of their design.
As connected devices become more the norm over the next few years, it is possible we will see either a decline in service calls or a reduction in the costs or time associated with site visits. This could, in turn, propel an increase in positive service metrics like customer satisfaction, longevity and loyalty. Who isn't impressed by a call or notification that an expensive device needs updating, rebooting or a replacement part, along with a request to schedule a visit? Even if the absolute number of service calls or truck rolls isn't reduced, the overall efficiency of the service process will be improved, allowing for savings in agent and technician time and headcount. It is also likely that as the IoT is more embedded into the everyday environment, customers (businesses and consumers) will increase digital interactions with automated systems, responding to automated outreach to get updates and status reports.
One nice by-product of that kind of interaction is that it prompts customers to look first to automated self-service systems, where queries are contained and less expensive. When a device talks to another device to request help, the only input the device owner has to provide is authorization and scheduling, which, in most cases, does not require a live agent.
IoT-based service alleviates one of the major failings of field service: Customers often start their journey in a state of confusion about who to seek out. Unlike business-to-business service, a consumer may have no idea if the source of a service call should be the manufacturer, the retailer or a third-party contracted by one or the other. They may not remember details of the warranty or extended service contract, and become frustrated when forced to restart their request if they guess wrong. Device automation can also streamline the process of getting accurate and current product information to the customer because the device knows where to reach out to find assistance. Even beyond the immediate benefits of speed and proactivity, implanting connectivity within a consumer product can reduce the frustration level of the entire service journey, setting up the customer for a better overall relationship.
As a best practice, it is important for organizations that conduct field service operations to build the connections between devices and the existing self-service infrastructure. It is critical that any process ensures that when the customer is notified or otherwise becomes involved in a support issue, the information surrounding the case is current and contextually relevant, and automation does not skip over requirements for customer authentication, privacy and data security. It is also essential that practitioners ensure that when a device calls home to report a problem, there is a process for making something happen, rather than just logging it somewhere for future reference.
Not enough organizations look at field service as a way to enhance the overall customer experience. When done poorly, it can certainly have negative effects. But when done well, it can change the way customers think about the organizations they do business with. As devices become more intelligent and connected, field service is gradually becoming an opportunity to demonstrate quick response and proactivity, solidifying relationships and potentially turning doubters into customer advocates.
Regards,
Keith Dawson