Contact centers are very often keen on optimizing their costs through automation. Technology vendors supplying this market have recognized this need, and in the past few years, they have been putting workflow and automation tools front and center in their offerings. This has raised some questions among practitioners about the most effective strategies for implementing automated processes.
Based on some of our recent conversations with end users, it's become clear that organizations are trying to quickly digitize legacy manual processes, often focusing on those related to recordkeeping, data input and cross-pollination across departments. It appears that companies are prioritizing both greater automation and obtaining cleaner, more accessible data (about customers and interactions). Organizations are finding that they need both in order to create successful customer experiences and optimize contact centers. This has led to two avenues of approach among centers. One is to automate via short-term, small-bore or piecemeal projects, and the other is to start building internal justifications for larger digital transformation. Contact centers are taking to automation very incrementally.
In some cases, this creates islands of automation that are not fully connected, either by an underlying platform or through the support and expertise of an IT organization. This raises an important question about how the industry thinks about low-code/no-code platforms. Should they be aimed at the IT buyer who can then direct the results to the line-of-business planner? Or does it make sense to position them directly to line-of-business users because then they can jump in with both feet on an easier project?
For many mid-market contact centers that recognize the potential benefits of automating operations, the desire for results is running ahead of people's actual appetite for implementing complex projects. (The contact center is an environment that historically has always implemented new technology slowly and incrementally, no matter its potential benefits.)
One way to overcome this gap is to rationalize the benefits of simpler automations. There are two ways to look at automation's value: one is through the framework of cutting costs, and the other is based on optimizing for workers' time. Typically, a focus on costs leads people to see automation as a pathway to reducing headcount and encourages finding a balance in the relationship between human workers and automated systems. A focus on time allows people to examine process outcomes which, while not necessarily related directly to resource savings, is very measurable.
Automation is not an end in itself. To encourage adoption of any platform, there need to be proof points for service applications that can demonstrate clearly how the benefits of automating specific processes can outstrip other ways of improving performance. For example, say a center has a choice between two strategies that each potentially offer a 5% performance boost on a key metric. One strategy derives that benefit from automating a series of processes via the application of new technology. The other gets to that same percentage through human-focused efforts like targeted training, gamification or some other less-technical function. It's likely that a typical manager will opt for the non-technological option in the short term and put the technology option on the roadmap for the future. The technological option requires input from a broader constituency of stakeholders within the organization, whereas the human option is something a manager can determine autonomously.
Low-code/no-code applications are a fantastic addition to the development toolkit, but their presence doesn't automatically erase the perception in the minds of line-of-business buyers that real integrations and workflow automations require the input of IT departments and/or third-party integration specialists. Real or imagined, that's a messaging gap and an opportunity for vendors with complex platforms.
Another question that complicates the automation equation has to do with where in the customer experience (CX) process you implement the automation. Does it face outward, towards the customer, in the form of self-service systems and agent-guidance tools at the point of the interaction? Or does it point inward, linking up siloed data and processes between workers and departments?
The customer side is arguably easier (or more familiar) because of existing experience with self-service deflection tools, ranging from basic IVR to chatbots and IVAs. Indeed, by 2025, we expect 7 in 10 customer interactions will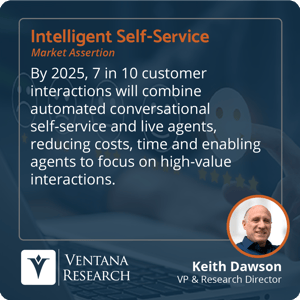 combine automated conversational self-service with live agents. Contact center planners well understand the expectations and tolerances of the user, that is, the customer. The internal side is more complex, again involves more stakeholders, but ultimately holds the promise of serious improvement along both measures, cost and time.
Now that most contact centers can acquire a strong automation technology from a wide variety of technology suppliers, the key to growth and deployment is in the messaging. Vendors need to provide proof points, guidance and a rationale. "Low-code/no-code" is itself a messaging construction, and it's a good one in that it says directly what the buyer can expect to encounter. But once a center is past that starting point, the entire area of integration and workflow automation can become too complex for a line-of-business buyer due to its many variables and options. It can be hard for a non-technical, non-IT manager to clearly see the benefits of automating specific functions and to relate those benefits to the pros and cons of possible outcomes.
Buyers need help understanding whether they should optimize for cost or time. So, if we borrow a page from the messaging that has been so successful in the last few years around artificial intelligence (AI) for contact centers, we can imagine a market education strategy focused on developing use cases and proof points and insulating the user from much of the complexity of deployment. This suggests the need for a streamlined discovery process during the sales cycle that narrows down the business case, identifies all the piece-parts that will be involved and relates them to those two axes: time vs. cost and internally vs. externally focused.
Even if low-code/no-code is an attractive option, buyers still need help defining which processes can and should be automated and whether they should approach automation by going small (like a simple chatbot or agent process) or by going large, via a digital transformation project. They are looking to trusted vendor partners to help them understand how to best benefit from the simpler tools now available in the market.
For more readings on this subject, visit the Customer Experience expertise area.
Regards,
Keith Dawson