The 2023 Ventana Research Buyers Guide for Contact Center Suites research enables me to share some of my observations about how the market has advanced.
In this modern, digital age of customer experience, the journey of engagement across every channel and device must be orchestrated effectively. Organizations, no matter the industry,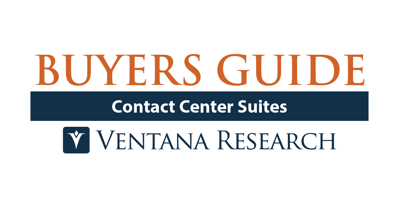 have inbound and outbound interactions and rely on contact centers to fulfill operational and revenue objectives. The utilization of cloud computing has enabled a new generation of applications and technology that supports this imperative through products that are easier to onboard and utilize than those purchased and installed in the past.
Contact centers have increasingly transitioned their essential digital and telephonic infrastructures from on-premises technology to cloud-based platforms. This shift has been underway for more than a decade with the assumption among technology suppliers and buyers that the cloud is the deployment method to manage the software and the interactions between agents and customers. However, contact centers in a post-pandemic world need to adopt a hybrid approach that engages an organization's technology where it operates and in whatever way agents and customers interact with it. As the industry moves away from the binary "cloud vs. on premises" approach into a more realistic, situation-based model, organizations are exploring hybrid deployments that mix cloud and on-premises applications based on each organization's comfort level.
Contact center providers have adapted their product portfolios to support the new reality of cloud computing and operating in public or private cloud environments. After years of sometimes dramatic steps of prioritized development and acquisitions by technology vendors, the focus on cloud development is now well established. The industry has reached a point where contact center in the cloud, referred commonly as contact center as a service (CCaaS), is the dominant mode of operations for new contact centers and for expansions of older ones. The market landscape of providers has changed significantly as technology vendors with on-premises offerings have developed, migrated or acquired contact center offerings that are aimed at the entire marketplace.
Ventana Research's assessment of the contact center market has found an expanding portfolio of methods to meet the broader need for customer engagement and experiences across channels and interactions and with applications and devices. This demand has introduced investments and communications platforms in the cloud known as Communications Platforms as a Service (CPaaS) that provide more flexibility in configuration and customization than traditional contact center offerings. Simultaneously, this technology has advanced the need for Unified Communications as a Service (UCaaS) which supports a broader range of what is referred to as digital communications, including collaboration and video. It is now possible for contact centers to adapt and have the ability to support a more streamlined set of interactions for best possible experiences across customer journeys. Technology vendors in the contact center suite market are either directly offering CPaaS and/or UCaaS support through their own technology that is OEM and embedded, or through a third-party partner.
To deliver a seamless and consistent customer experience, organizations must integrate a broad array of communication channels and share all available information among agents and the workforce. Contact center systems handling interactions must apply the same rules across every platform to maintain context as customers move from channel to channel. Cloud-based applications largely obviate the need for dedicated technical resources with on-premises products, and can be easier, faster and less expensive to deploy.
Organizations assessing improvements to their contact centers have a wide range of capabilities and options to meet their needs. It is less a question of cloud versus on-premises, or public cloud, private cloud, or hybrid, but how it adapts to the processes and needs for best possible experiences and seamless interactions.
A balanced approach and evaluation criteria that represents an organization's contact center suite needs should be used as the RFI lens for evaluating products. First, organizations should look at the manageability of the broader set of applications and technology required to operate an omnichannel contact center. There is also the need to ensure reliable 24/7 operations to support the level of performance and scalability from the internal operations to the customers interaction. In addition, the contact center must have the adaptability to support the integration of a broad variety of technology, applications, processes and data across channels and departments. The level of usability required across roles and technology in the contact center should be a priority and support the range of usage personas. Last but not least is the capability required for managing and handling customer interactions across any engagement channel, the capturing and applying analytics, and the artificial intelligence (AI) and machine learning (ML) that should support the performance of the processes and agents.
The modernization of the contact center must also focus on human and machine agents interacting with customers across any channel. This focus is referred to as agent management, historically called workforce optimization, and now sometimes referred to as workforce engagement management (WEM) and support forecasting and scheduling. To provide successful customer engagement and interactions, organizations need to ensure that the applications for the operations and performance of agents are supported by AI and ML with analytics to understand and adapt to customer behavior. Digital self-service has become increasingly relevant as customers now prefer to seek information and take action at a time of their choosing via their preferred channel and device, most likely mobile, rather than engaging with a person over telephony. Unified communications should not only support contact from text, chat and video, but on whatever application and device that the customer desires. As is the case for other channels, organizations should be sure to invest in more robust intelligence applications that can be monitored and tracked through metrics.
Organizations are well aware of the imperatives to improve contact center processes and technologies in a way that enables their agents and engagement channels to provide the best possible personalized customer experience. Increasingly, the impetus to improve and integrate the contact center comes from leadership who realize the importance of customer satisfaction and its correlation to customer loyalty and retention. Many organizations are centralizing processes for customer experiences and engagement under new executives like the Chief Customer Officer, Chief Digital Officer or Chief Experience Officer. The reason for the shift is to improve the accountability and quality of operations with customers across digital channels and departments that provide interactions.
In our contact center suites research, we find that organizations that need technology have plenty of opportunities to digitally modernize their environment. In every significant category, the tools that are available are well equipped in functionality and more versatile in how they are managed and deployed. New vendors have entered the market, sometimes from surprising directions, and more established global vendors have been spurred to adapt.
But a diverse array of options means buyers need to do more complex homework to determine their needs and match solution providers to those needs. Buying contact center infrastructure is no longer a simple matter of selecting a voice routing engine and then letting that choice determine the rest of the application tech stack. That practice, though still common, does not always prepare an organization's contact center for the complex challenges of managing customers across channels over time, nor for integrating operations into the business's broader efforts to provide a unified customer experience.
Pared down to its essentials, the responsibility of a modern contact center is to meet customers in a communications environment of their choice, and provide whatever information or services matches the needs of both parties. In doing that, centers must balance the high costs of maintaining a labor force, an increasingly automated self-service entryway and an escalating use of data sourced from many internal systems. It is important to select vendor products based on criteria that go far beyond the traditional focus on telephony and efficiency.
While the industry has been "moving to the cloud" for more than a decade, not all contact centers that operate in an on-premises environment have made the shift. There are a lot of reasons why the transition has been so slow, with the primary holdup being the long life of legacy on-premises equipment and the inherent conservatism and risk-aversion that keeps centers from making dramatic, transformative changes whenever possible.
The fact that organizations move slowly represents an opportunity to leap over several interim technology generations and approach the question of customer service provisioning with a fresh perspective. The pandemic accelerated — and highlighted — several existing technology developments that were just beginning to come into focus, including work with AI, workflow automation, intelligent self-service and enhanced support for distributed workforces. Buyers are now also exploring hybrid deployments that mix cloud and on-premises applications based on an organization's comfort level. We are moving away from the binary "cloud versus on premises" approach into a more realistic, situation-based model.
Another change that makes this market segment impactful, though more complicated, for buyers is the deemphasis of the voice channel, and with it, the core automatic call distribution (ACD). The rise of digital channels is well known, and it appears that most interactions today are to some degree a mix of voice and digital, including chat, email, SMS and other similar channels. If you consider voice to be one of the many available digital channels, then it becomes possible to relegate the ACD to a secondary criterion when building a center's overall infrastructure. While legacy ACD technology vendors, both cloud-based and on premises, still want buyers to focus on the communications aspect of the contact center, alternatives exist in the form of service-based software platforms that allow you to build your center around a data/analytics toolset or a ticketing and case management system, and bolt on the telephony provider of choice through open APIs.
It is common to evaluate vendor offerings for contact centers by zeroing in on a tightly defined niche, like the ACD or the self-service front end. We believe that, in an expanding environment, an organization needs to start with a broader approach that acknowledges the ongoing changes in contact center technology. To prepare for a rapidly changing future, organizations need to first understand the breadth of what vendors are offering, and then narrow their view to the platforms and applications that best map to their operations, goals and existing infrastructures.
The Ventana Research Buyers Guide for Contact Center Suites encompasses contact center and agent management applications and the underlying platforms and technology to support them. We examined the offerings of 22 vendors: some cloud-only, some on premises, some hybrid; some provide full offerings, others are platforms meant for building or plugging in third-party applications. Specific product evaluation criteria for capabilities included voice and digital interaction routing, interaction-handling analytics, workforce and quality management, agent performance management, agent desktop support, remote workforce support, automation and self-service, and data and integrations.
As part of our contact center suites research, Ventana Research prepared two additional Buyers Guides that separate contact center platforms and agent management capabilities. Criteria for contact center capabilities included voice and digital interaction routing, workforce management, quality measurement, agent desktop, remote workforce and automation and self-service. Criteria for agent management capabilities included workforce management, primarily scheduling agents and forecasting volume; quality measurement, including interaction recording, agent evaluation, coaching, and performance measurement; agent experience and feedback; agent performance management and agent desktop. We also evaluated features related to agent guidance and assistance, gamification, collaboration and much more.
Some vendors overlap in the marketplace; others do not. This evaluation necessarily puts together some companies that do not directly compete, nor make systems in the same segment. A vendor that focuses on agent management but not routing will have different strengths and weaknesses than a vendor that provides the underlying voice or digital routing engine, or one that emphasizes AI-based self-service or complex interaction analytics. Buyers must go into the examination with the understanding that not all subsets of these vendors will be fit for purpose in every situation, and the variety of possible situations is enormous, varying by size, industry, geography and the nature of the organization's customers. How a vendor is rated in this overall evaluation should be viewed in context with how it fares within the full scope of contact center suites and individually within the Buyers Guides specific to contact center platforms and agent management tools.
Our contact center suites research evaluates the following vendors that offer products that address key elements of contact center suites as we define them: 8x8, Alvaria, AWS, Avaya, Cisco, Content Guru, Dialpad, Emplifi, Enghouse Interactive, Five9, Genesys, LiveVox, Microsoft, NICE, RingCentral, Salesforce, Talkdesk, Twilio, Verint, Vonage and Zoom. Two additional vendors, Playvox and Calabrio, were evaluated in the Buyers Guide for Agent Management, available separately.
You can find more details on our site as well as in the Buyers Guide Market Report.
Regards,
Keith Dawson