Today's contact center agents find themselves handling increasingly more complex interactions due to changes in consumer demand, advances in self-service and the proliferation of digital contact channels. This added complexity requires continuous agent support for successful customer experience outcomes. Intelligent software can reduce agent workload and improve customer interactions by picking up customer cues.
As technology progresses from relatively new to mainstream, the perceived risk shifts from the challenge of adopting new technology to the disadvantages of not using proven technology to remain competitive. This evolves in phases depending on the preferences and skills of an organization. Historically, buyers within the CX space did not see artificial intelligence as a prudent investment. Rather, it was viewed as a new, expensive, relatively untested niche offering. This stance was understandable, as CX professionals are traditionally risk-averse when deploying technology into their contact centers. But changes are spurring a reconsideration of tools that deliver process automation, intelligent interaction data and automated virtual agents.
OnviSource is a software vendor specializing in intelligent automation for contact centers. Its offering is a hyperautomation platform for AI, analytics and robotic process automation. The platform includes multichannel analytics, intelligent virtual agents, call routing, workforce optimization and other tools used in contact center operations to improve workforce performance, automate processes and increase customer satisfaction.
OnviSource calls its platform ia.Enterprise, and it consists of:
iMachine, a multi-engine AI platform that deploys three automated technology engines: natural language understanding/natural language processing, machine learning and deep learning.
Intellecta, an analytics and decision-making engine.
And Orchestra, a tool for workflow and robotic process automation.
OnviSource has made considerable investments in intelligent automation and the cloud since 2017. As of 2020, its IA platforms are available as on premises, cloud or hybrid software.
The automation of routing interactions through software is escalating industry wide. Ventana Research asserts that by 2025, one-half of all customer interactions will be entirely handled by automated systems, with no human in the loop, helping minimize the cost impacts of increasing volume.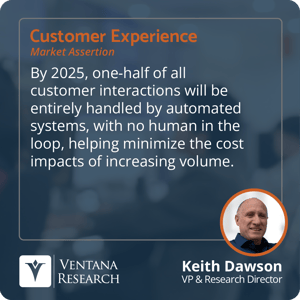 The core goal of managing customer experiences is to ensure that every customer gets a frictionless fix to any problem, and that every organization gets a happy, loyal customer as a result. OnviSource's value proposition is in automating and capturing data to better serve the customer, thereby increasing customer satisfaction.
OnviSource cites the ease of use and time to value of its platform as key differentiators. The company uses its own iMachine platform connected to third-party clients using OnviSource's API. This connectivity allows organizations to utilize OnviSource's platform to support customer-related processes across departments and use cases, and do so at scale.
Automation can facilitate measurable efficiencies for any organization that handles interactions at large scale. This what OnviSource strives to deliver. As more buyers realize that AI and automation offer significant advantages, there will be a shift throughout the industry to widespread adoption of such enabling software. OnviSource is at the forefront of this automation shift, and any organization looking to increase productivity and reduce workforce workload should consider it.
Regards,
Keith Dawson