The modern contact center relies heavily on software that enables agents to perform multiple complex tasks while simultaneously managing the customer-facing side of interactions. This has allowed CRM vendors to build tools, such as agent desktop interfaces, that control virtually all aspects of the service environment.
Salesforce has been steadily growing its influence over the service environment in recent years, as it has added components and features to its main contact-center application, Service Cloud. Service Cloud is a broad portfolio of applications that applies to many support functions including field sales, case management and ticketing, self-service and artificial intelligence (AI) tools. This makes Service Cloud an appealing option for many organizations, particularly those with small-to-midsize contact centers. With the addition of a voice option in 2020 (to control the telephony aspect of customer calls, via Amazon Connect), Salesforce has the potential to disrupt segments of the contact-center space in that small-to-mid range.
Service Cloud has emerged as Salesforce has emerged from a sales-focused CRM company into one that offers an extremely diverse portfolio of business applications across multiple organizational functions. Its enterprise applications include tools for marketing, customer service, process automation, analytics, AI and customer-data management, to name just some of their capabilities.
Service Cloud sits side by side with the company's other "Cloud" products aimed at related customer experience (CX) functions, notably those for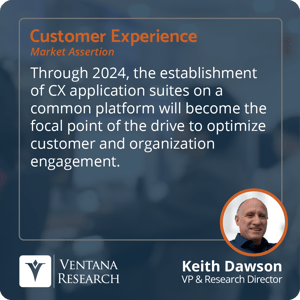 marketing and sales. The tools all sit on a common platform, allowing businesses to build more collaborative environments for CX across departments. Ventana Research asserts that through 2024, the establishment of CX application suites on a common platform will become the focal point of the drive to optimize customer and organization engagement.
Service Cloud provides a mechanism for customer support reps to respond to inquiries that come in across different contact channels. It can automatically route cases to the appropriate agent, provide access to appropriate business data to resolve issues and record the results for later analysis.
In December, Salesforce released an update for Service Cloud focusing on workforce engagement, and what we call Agent Management. Part of this update is a workforce planning tool that allows remote agent-management and parcels out work, such as calls or specific cases, to agents based on their skills or on the particular channels used by customers. This new release reflects the importance of Service Cloud within Salesforce's product family – Service Cloud is the largest "Cloud" by revenue for Salesforce.
The workforce engagement component of Service Cloud is important to organizations because it supports the efforts many contact centers are making to rethink how they manage staff that has been reassigned to remote or work from home during the pandemic. It enables contact-center managers and supervisors to manage, train, coach and evaluate agents who are no longer in their line of sight. And, as the contact-center industry potentially snaps back to something approaching a normal or hybrid environment in 2021 and beyond, this capability will help ease the transition between those environments.
With the addition of workforce-engagement features, Salesforce is tackling the most important element of the modern customer experience: agent management. Ventana Research believes that innovation in agent tools, in the basics of customer support (ticketing, case tracking, field service) and in voice of the customer (VoC) analytics will be competitive differentiators for organizations that deploy these tools. These areas of focus are key for Salesforce to continue to develop further.
Salesforce Service Cloud should be under consideration for any small-to-midsize contact center. It can also be used by enterprise-sized contact centers, primarily because of its case management, field service and customer data management capabilities while using either the embedded Amazon Connect or other partners for telephony support. The completeness of the portfolio across wider CX functions (in addition to contact centers) and the connection to other Clouds and to platform services, like AI, make Service Cloud an appealing offering in many contexts. However, Salesforce should take care to harmonize their offerings across Clouds, as it can be difficult for buyers to identify which modules or components are part of which Cloud, and which are shared between them. Increasingly, tools that are valuable for some service-related CX cases can be found outside the formal confines of Service Cloud, such as customer-data platforms, some analytics and communications tools for sales teams. This puts an onus on the buyer to map desired functions to their own processes and to the broad Salesforce portfolio. Salesforce with new leadership and a reinvigorated product portfolio signals that it is continuing to commit attention and resources to ensure that Service Cloud remains a significant player as the contact-center and agent management market evolves.
Regards,
Keith Dawson