Customer Service & Support (CSS) is a software segment that provides tools for tracking and resolving customer problems, primarily through contact centers. The segment has been mature for decades but today is reinvigorated by a new emphasis on workflows and automation. Vendors, like ServiceNow, have been innovative in developing new technologies for managing self-service and field service, and providing agents with contextually relevant information during interactions. The new technologies brought to bear on this include artificial intelligence (AI) for knowledge search and delivery; agent assist and guidance tools; and SMS-centric customer messaging.
ServiceNow has been in this market segment since 2003. It has taken core CSS functions and expanded them to incorporate linkages to back-end business applications that provide context and further actions for customers along the journey.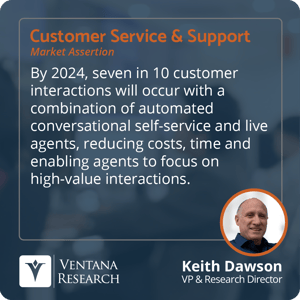 Ventana Research asserts that by 2024, seven in 10 customer interactions will occur with a combination of automated conversational self-service and live agents, reducing costs, time and enabling agents to focus on high-value interactions. ServiceNow is evolving the CSS segment along these lines as customer demands also evolve to become more complex and multichannel.
ServiceNow's broad focus is to manage digital workflows for enterprise operations. That includes case tracking and ticketing, which is the core component of its platform, as well as field-service capabilities. ServiceNow's Now Platform serves both internal and external support needs, from IT service management to external customer support. ServiceNow's Now Platform is the underlying offering that facilitates its optimization and support processes. Though there is some feature overlap, this CSS platform differs from contact-center operational tools in that it does not focus primarily on the communications aspect of the customer interaction.
The most current release of the platform (codenamed Quebec) includes a number of AI-powered enhancements to the search functions and the conversational experience. It also includes a tool called Virtual Agent that facilitates intelligent self-service conversations.
During its recent Knowledge 2021 event, the company announced new offerings for specific industries (manufacturing, life sciences, healthcare) and the acquisition of LightStep, a firm that does application monitoring. ServiceNow expects to create workflows that combine Lightstep's application observations with ServiceNow's action triggers. This brings remote sensing and internet of things (IoT) squarely into the customer service equation.
These enhancements and innovations provide contact-center support agents (and self-service tools) with up-to-date tracking information on cases in progress, which in turn places the CSS application at the center of the customer's journey. By making the ability to resolve and track the problem the central focal point of the relationship, CSS tools help create more stable and long-lasting customer relationships.
The CSS segment should be viewed as a component of a broader customer-experience strategy that recognizes the importance of contextual awareness of the customer's support history. Support is a unique type of customer interaction that contains the seeds of dissatisfaction if not handled quickly, accurately and with transparency. Having tools dedicated to tracking support cases allows organizations to solve issues before they impact other CX functions like marketing and sales.
At the same time, ServiceNow is meeting the needs of IT and needs of lines of business and processes. CSS processes stand adjacent to contact-center communications processes. Many organizations overlook the ability of CSS tools to help cross departmental boundaries that can clog service interactions and introduce friction into the customer relationship.
Customer Workflows are ServiceNow's term for the way its platform breaks down complex processes into smaller, trackable tasks and automates as many of them as possible. It also uses automation to provide the necessary relevant resources to whomever is handling the issue. By making complex processes repeatable, workflows generally speed up case handling and guarantee a consistent level of quality and timeliness. Multiple technologies combine to create workflows, including routing of work, predictive intelligence to identify automatable processes, and analytics to measure and optimize results.
ServiceNow provides different kinds of workflows. In addition to those aimed directly at the customer experience, the company has developed workflows for employee and IT processes. In its most recent release, ServiceNow added capabilities to its mobile-messaging customer service workflows and to dispatcher functions for field-service operations.
CSS tools like the Now Platform do have a strong IT focus and, in the case of ServiceNow, that stems from its history as an IT Service Management provider. But organizations should look at CSS as more than just IT-related. They should consider how a support-tracking platform informs many other customer-facing functions, especially self-service and automated intelligent conversations.
Vendors should be paying more attention to the steady improvements in the CSS software segment. As companies like ServiceNow lean hard into AI-powered service, agent guidance and automated self-service, they blur the lines between the interaction-handling tools run by contact centers and the problem-management tools used to solve issues. And they point to what we will likely be seeing by mid-decade: a collection of widely useful CX suites that incorporate tools used by multiple departments for communications, problem solving, and journey management, all under one roof. Buyers that need solutions for optimizing how customer problems are tracked and resolved should look into ServiceNow to see if it fits their needs.
For more on the evolving CSS segment, see Customer Service and Support: Expanded Role and Need for Software.
Regards,
Keith Dawson