The ways in which consumers engage with organizations have changed. Long-established communication channels such as the telephone, email and company websites are still used, but many consumers now prefer to use text messages, online chat, social media, virtual agents and applications on their mobile devices to contact the company and address issues. As a result, organizations have had to add support for many new channels of customer engagement.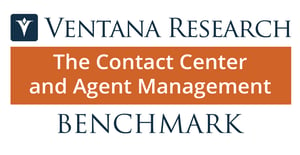 Supporting multiple channels poses challenges, however, chief of which is being able to provide consistent experiences regardless of the type of interaction. To be able to deliver this, organizations must integrate all their channels of communication with the contact center, share all available information among employees and systems handling interactions, and apply the same rules across all channels so that responses are consistent and personalized. Increasingly, organizations are finding the only way to achieve this level of unification is to deploy cloud computing-based contact centers that can integrate with both existing and new technologies, and support the engagement by human or machine-focused agents.
To better understand these challenges we launched our Benchmark Research into Contact Center and Agent Management which is designed to unearth insights into how customer-facing professionals view the issues around multichannel interactions, including the technology and processes they use. The research relies on the participation of organizations that operate customer services and contact centers, and will provide quantitative assessments of the market and technology usage drawn from their operations.
Two notable characteristics of today's consumer that bear on how an organization structures its interaction capabilities are a short attention span and an expectation of instant gratification. These inclinations lead many customers, particularly those reaching out through mobile devices, to use self-service methods to resolve their issues. Recognizing this, more innovative organizations blend digital assisted service, in which contact center agents directly engage with customers, and self-service channels such as interactive voice response (IVR) systems, mobile apps, social media or voice-activated virtual agents. In doing this, organizations must ensure they accommodate the potential complexity of self-service requests and develop ways in which customers can seamlessly transfer to assisted service if they cannot fully complete an interaction in the self-service channel.
For many years, organizations invested in and maintained on-premises systems to manage their communication channels. Private branch exchange (PBX) and automatic call distribution (ACD) systems handled inbound and outbound phone calls, and many integrated these with call routing and computer/telephony integration (CTI) software to manage who handled calls. As organizations offered and customers began to utilize additional channels, other standalone systems such as email, web and IVR systems were added to begin handling these additional types of interactions.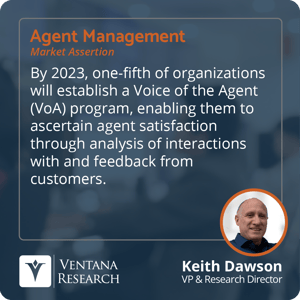 Reflecting the ad-hoc nature of this growth, business units other than the contact center often handled these interactions, each using stand-alone systems. Because each of these systems stores its own information, customers might receive different information depending on which channel they used. Those not satisfied with the response they received in one channel might go to another channel, but given the siloed nature of these systems, they typically would be forced to start the interaction over from the beginning—an experience likely to increase their dissatisfaction. Just as important is the agent supporting the customer, and we assert that by 2023, one-fifth of organizations will establish a Voice of the Agent (VoA) program, enabling them to ascertain agent satisfaction through analysis of interactions with and feedback from customers.
Customers engaging with an organization expect personalized responses that draw on their previous interactions and are consistent no matter which channel they use. To avoid the pitfall of inconsistency resulting from separate systems and multiple stores of information, companies need to integrate their channels of communication, route interactions intelligently according to a single set of rules and provide access to a single authoritative source of customer information. When unified with customer engagement, cloud-based contact center systems offer a way to efficiently meet these requirements.
Customers increasingly choose to engage through mobile devices such as smartphones using mobile apps, which often means they are triggering responses via visual IVR or through technologies such as virtual agents. As these deployed systems are refined, their improved performance likely will lead to customers' increased use of self-service to address more complex needs. And when issues arise, organizations will need to develop ways to seamlessly transfer people from self-service to assisted service.
In their pursuit of the goal of seamless omnichannel experiences, organizations must understand and improve the customer journey from a channel usage perspective. We expect to find that businesses are learning to link together information about different points in the customer journey by using advanced analytic systems, machine learning and other recently developed tools. Understanding the details of the operational environment inside contact centers will provide a baseline for assessing the maturity of customer experience projects. If you would like to participate in this research, and are qualified to our guidelines, please proceed to take the survey.
Regards,
Keith Dawson