The contact center has long represented the starting point for customer experience initiatives. Now, however, most organizations are finding that they need to invest beyond this singular point of engagement. When organizations look at customer experience holistically, they see the need to incorporate the perspectives of people in other departments and channels of customer engagement. These diverse new points of view come with an interest in deploying CX technology that also meets their needs. As a result, organizations are looking at not just vendors traditionally in the contact center space but those that operate across the entire customer journey, and shifting some of the existing contact center budgets to tools that fill multiple roles.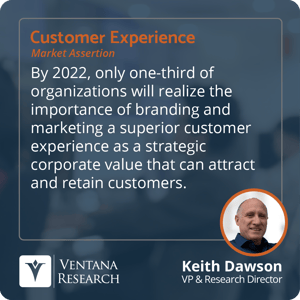 This shift has led to a broader chain of decision-making across one or more levels to incorporate cross-departmental and customer engagement needs. CX, though rooted in the contact center service environment, is directly relevant to marketing, sales and product teams, and back office departments throughout the enterprise. Marketers now have increased sway when it comes to analytics and customer-facing CX technology. Sales teams similarly look at communications and analytics technology with new eyes as they try to gain market and competitive insights, and adapt selling strategies for optimal outcomes. Despite this, Ventana Research asserts that by 2022, only one-third of organizations will realize the importance of branding and marketing a superior customer experience as a strategic corporate value that can attract and retain customers.
One of the forces pushing all these departments together is the increase in digital transformation projects that, by design, review siloed processes and tools. These initiatives are opening the door to collaborative technology approaches that examine the common elements needed by different CX actors, paying special attention to how data is collected, stored and analyzed. This transition has also led to new leaders such as chief digital officers and chief innovation officers.
But digital transformation has also spotlighted the importance of other key leadership roles in the enterprise. Chief customer officers and chief experience officers are often responsible for budgets across lines of business, and are accountable to metrics that are revenue centric and outcome based. This contrasts with the metrics used in traditional contact centers that focus primarily on ensuring efficiency, productivity and cost control.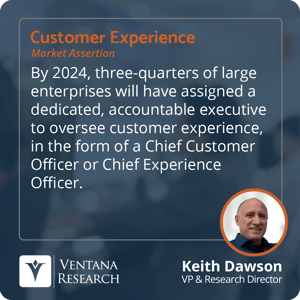 Ventana Research asserts that by 2024, three-quarters of large enterprises will have assigned a dedicated, accountable executive to oversee customer experience, in the form of a Chief Customer Officer or Chief Experience Officer.
When CCOs and CXOs are in the driver's seat—along with the CMOs who have been there all along—priorities are aligned to the goals of the organization at large, forcing the managers in each stake-holding department to articulate their value and specific needs in conjunction with their peers. Line of business managers are forced to work together to justify interdepartmental platforms, acting as influencers on a larger buying team than was typical in the past.
Things also look different from the contact center buyers' perspective. Marketers have long had influence, if not outright control, of the analytics and interaction orchestration tools that they use to reach customers, even if they duplicated or overlapped with existing contact center technology. Marketing and sales teams may view this expanded buying center as additive to their needs, but it is the contact center buyers who are finding themselves at something of a disadvantage relative to their peers, as they must cede control over some of their technology to the other buyers.
Some of the technology that was exclusively within the contact center buyer's domain has become deeply interconnected with that of the rest of the organization. This is visible in the world of UCaaS and CCaaS, communications tools that, now that they are deployed via the cloud, look more similar by the day. Another example of this shift is in the world of customer data. The emergence of cross-functional customer data platforms (CDPs) and digital experience platforms (DXPs) encourages the sharing of contact center information with marketing and sales users. In the process, it severs the "ownership" of the data from the contact center and makes it a common resource.
The ramifications for both buyers and sellers are serious. Vendors have sometimes been caught short by the shift, finding themselves without messages that explain the value of their offerings to users outside their core area. Legacy contact center vendors, for example, have had a difficult time articulating the marketing use cases for their communications and analytics tools, which
has allowed martech vendors to occupy most of the mindshare for CX systems aimed at sales and marketing roles. Vendors across the spectrum need to view the expanded buyer universe as providing more opportunities for them to break through and compete on a wider playing field. But not all vendors are prepared to make that leap, suggesting that point solution vendors will have a more difficult time adapting than suite or platform vendors.
It also appears that cross-functional buying teams are less focused on efficiency and productivity. Instead, more attention is being paid to how technology contributes to the customer experience. This includes processes related to marketing and brand engagement, lead development, and attempts to lift revenue across teams. This appears to be due to the accountability forced on teams by the new layer of C-level management for ensuring business continuity that contributes to the best possible CX.
Contact center buyers may ultimately find that they have a stronger voice when they sing in harmony with their CX peers. Near term, there is an opportunity for buyers in the traditional contact center space to use the economic disruption of the past year as a proof point that argues for the strategic nature of contact center tools. Those folks may not have complete control over the purchasing decisions for their core technology, but by throwing their support into joint CX efforts, they can support alternative use cases for things like analytics, CCaaS and AI for agent assistance and knowledge management that have strong impacts on other stakeholders. In this way, contact center tools start to be strategic contributors to the organization, rather than as costly necessities for limited operational purposes.
Regards,
Keith Dawson