Account-based marketing (ABM) serves as a model for how a complex manual activity can be improved and automated. That does not mean it always goes well. ABM is a practice that many B2B marketers swear by, but it can be very difficult to get a technology-enhanced ABM program up and running.
ABM is a method of identifying B2B targets for marketing communications and outreach based on specific qualities or signals that suggest a business is progressing toward a buying moment and finding the individuals within that business who influence the decision. This is difficult because it is resource intensive and highly subjective when done without the aid of analytics tools to sort through large data sets to find those relevant accounts and people.
Automating this process entered the scene in the last decade to help marketers create lists of target accounts based on rigorous qualifying criteria and to find signals of intent by tracking how multiple people at those accounts engage with different kinds of content or messages. The short-term goal of ABM is to enable marketing to deliver more qualified leads to sales teams. Longer term, ABM has the potential to create better collaboration opportunities between those two departments by harmonizing the factors that go into deciding who is a qualified target. It also helps marketers expand their account lists by identifying look-alike targets based on large first- and third-party data sets and enrichments.
In the process, ABM evolved from a very specialized activity into one that many regard as synonymous with B2B marketing in general. The idea of using accounts as the target metric is not new. What technological ABM brings to the table is the ability to look beyond a core of top accounts to others that might be ripe but not visible. It expands the available footprint for sales and marketing alike.
In the last three years, the industry has consolidated, with a number of prominent ABM vendors having been acquired by larger firms looking to bring automation to the B2B world. This has broadened the functionality for B2B marketing, in general, but fuzzed the definition of what exactly counts as ABM these days. Some vendors have recognized this shift and have applied the "account-based" branding to broader functions than just account and lead scoring. Account-based "everything" is really a way of describing the automation of standard B2B practices while augmenting them with analytics based on rich data sources and intent signals.
Marrying ABM tools with marketing automation platforms created the opportunity to meld account tracking with newer communications channels, like live chat and SMS messaging, that both marketers and sales teams are learning to leverage to open dialog with influencers. Terminus, for example, added live chat to its ABM system, to allow for real-time conversations with business influencers at the precise moment that a buyer shows interest (whether or not they have explicitly expressed that interest).
The biggest impact of ABM has been to increase the importance of (and reliance on) data to identify account targets. What had been common in B2C marketing efforts could now be applied to business buyers, even when there are multiple people within a business guiding the buying process. Integrating ABM with marketing automation, CRM and outside data feeds makes it easier to perform segmentation analysis, find similar overlooked target accounts, and identify the ideal customer profile. It is significant that ABM has taken on a larger role at the same time that technology for reducing inter-departmental data silos has also improved through the implementation of customer data platforms.
While the market for ABM-related tools has broadened, it is still the case that the majority of ABM projects do not succeed in the short term, and most do not involve the kind of dedicated analytics technology described here. Most are manual projects that rely on humans to identify the accounts and track the individuals involved.
Looking ahead, we believe that future success of the ABM segment is closely tied to organizations' efforts to streamline broader revenue processes. The nascent category of revenue management software is not yet clearly defined, though led by my colleague Stephen Hurrell and his definition AP URL, but it encourages organizations to build processes that synchronize marketing and sales team activities. It will encourage better alignment of the way those two teams develop target accounts and identify opportunities that are hidden from view through lack of coordination.
Ventana Research says that only 10% of organizations have established the revenue management leadership and function to unify the resources and plans for operations across all marketing and sales efforts. At the same time, we assert that by 2024, one-half of all marketing organizations' account-based marketing efforts will fail due to operating in silos and not personalized to personas across sales and marketing.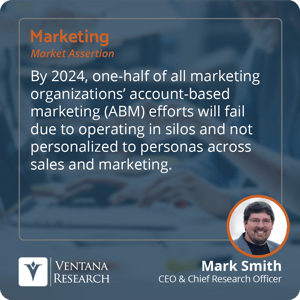 This suggests several outcomes. First, in the next 18-24 months, organizations that embark on ABM projects will still have to contend with cumbersome processes that do not fully integrate multiple applications different teams are using. Developing ABM programs from scratch will still be a heavy lift despite the available tools because those tools are still being integrated by software vendors into end-to-end applications that serve unified teams across the B2B environment.
Second, in the longer term, ABM will embed itself deeply enough into the fabric of automated marketing and sales that it will not appear as a separate software segment at all; instead its key functions of data enrichment, lead scoring and intent awareness will become basic capabilities of B2B marketing suites, wedded to the communication and analysis tools that are becoming standard across marketing teams more generally.
Since so much of B2B marketing is still handled manually, there is a large opportunity for both vendors and practitioners to use technology to create smoother and better integrated processes for sales and marketing. Marketers will find better data and account management tools embedded within their existing marketing tech stack.
ABM vendors appear to be looking at how to expand the definition of ABM software across more marketing and sales functions. In addition to messaging shifts that emphasize that everything happening in B2B is "account-based," they are building platforms that funnel data into engines for identity resolution and personalization, use that data to build segments and audiences, and then push it out to other systems that can make use of it. These include adtech tools, sales engagement platforms, marketing automation, and interaction orchestration systems.
They are also looking at the way B2B efforts require marketers to focus on different metrics than B2C does. Since multiple people are part of the buying process, through direct decision or influence, tracking individual customer journeys is less useful than measuring things at the account level. That means that so-called ABM tools are increasingly equipped with features like predictive analytics and sales intelligence, making them more powerful. At the same time they are harder to identify as purely ABM because of that breadth
For buyers, that means a more complicated technology assessment process. Buyers need to look at the ABM toolkit as one that is being redrawn continuously as vendors learn more about how B2B processes can be better automated and tracked. It is helpful to see the evolution of ABM as less about a particular basket of features than as a collective fine-tuning of how technology can be applied to high-value B2B marketing. As a result, buyers should be alert to the connections between sales and marketing practices, particularly with regard to how information is presented to users via metrics and dashboards.
On the vendor side, we expect continued innovation, but it is also likely that vendors will edge away from the ABM messaging and recast their offerings as full-featured B2B tools for synthesizing sales and marketing. As long as the tools allow users to ramp up more targeted communications to the most relevant individuals, the industry will adopt more ABM into its martech stack, regardless of what the vendors choose to call it.
For more reading on related issues, see these recent Analyst Perspectives:
Regards,
Keith Dawson