This has been a dramatic year for contact centers. The underlying technology has been changing for some time, but that change is now accelerating because of the urgent operational shifts forced by the pandemic. When you can't gather dozens or hundreds of people into a single, open-plan site, you must look at alternative models for staffing and interaction handling. You must also work harder to create positive customer experiences across multiple contact channels.
If the pandemic had struck as recently as five years ago, many operations would have been unable to pivot and effectively interact with their customers. Dispersing agents to small sites or into work-from-home situations runs deeply against the conservative, risk-averse mindset of most service operations, even when the technology to make it happen exists. Organizations today are lucky in that they are somewhat more flexible and resilient, but it has still been a shock to the system for many.
The shift to business continuity has shifted attention away from improving efficiency. As my colleague outlined, every organization should ensure that business continuity is a top priority, and to understand how that approach supports the agent experience and contact center responsibilities as they relate to customers. To maintain business continuity during challenging times, an organization may need to ensure agents are ready to be empathetic; specifically, that they are equipped and empowered to address customer questions regarding suspending bills or reducing payments to help alleviate economic challenges.
Organizations are experiencing a forced experiment in cloud migration, self-service and agent performance management. Technology vendors have done a creditable job supporting the industry with tools that facilitate continuing operations for serving customers. Transitions that would have taken five to ten more years to accomplish are now on the table and in development. Organizations are also looking at methods to provide customer self-service through smarter or intelligent virtualized agents that can provide more rapid response.
I believe there are six important market trends that are critical for every organization to engage and address. Each is supported by a combination of existing and new technologies that are available today. Managing them effectively will become a competitive differentiator over the next several years.
Transition to agent experience. Centers traditionally measure activity such as talk time, speed of answer and the number of calls handled. Those are fine as far as they go, but they do not tell a story about the overall health of engagement with customers or provide fine-grained insights into operations. When businesses and entire industries like airlines or hospitality are on the brink of collapse, information needs to be about revenue, customer retention and pipelines. In effect, centers are coming to grips with the need to measure the effectiveness of the agent pool, not just its efficiency. This speaks to a shift in the way centers use analytics to reveal how service operations contribute to overall business goals such as staying open.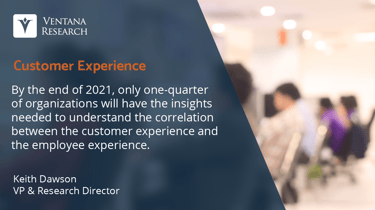 Analytics will also lead us to a greater focus on measuring the agent experience. We assert that by the end of 2021, only one-quarter of organizations will have the insights needed to understand the correlation between the customer experience and the employee experience. Employees provide a second stream of insight into customer experience, paralleling what you learn from voice of the customer (VoC) feedback tools. Managing the agent experience has cost benefits, particularly in reduced turnover. It is also useful in gauging the impact of a slew of new technologies agents are working with, including systems that provide them with real-time assistance and guidance into next-best actions.
Working from home (WFH). We now know that it is possible to reconstitute the contact "center" as a distributed pool of home-based agents. However, it has not been easy for managers to shift their thinking about how to coach and evaluate people. Supervisors are understandably more concerned with elements like schedule adherence when they cannot lay eyes on their agents, especially if those supervisors have not been trained in the art of managing remotely. Workforce optimization and agent management now must reassure managers of things they are used to taking for granted. Supervisors must become comfortable with remote monitoring and coaching, especially as agents are going to have less interaction with each other to share best practices.
When organizations eventually "return to work," we must plan to do it safely and ensure the readiness of the agent population who come back to in-house contact centers. We have heard that organizations might keep a segment of their current remote agents working from home, which suggests a serious reshaping of the cloud/on-premises dynamic, as well as the agent/supervisor relationship. For those that do return to the center, health and safety protocols will be necessary. Fortunately, technology is already available to support this requirement.
Security and compliance come to the forefront. Another area of managerial responsibility is extending the center's secure environment when agents are offsite. Outsourcers that specialize in WFH have often wrestled with how to lockdown agents' access to sensitive data. There are abundant examples of best practices to follow and regulatory regimes to comply with. In centers, terminals can prevent unauthorized data access and personal technology can be excluded. When agents are off-site at home this is more difficult to monitor and requires consistent attention and maintenance.
Smarter applications. AI and machine learning are being built into some of the fundamental applications that underlie contact center operations. This raises the intelligence level of those applications in several ways. For example, infusing knowledge management software with a deeper awareness of potential solutions to customer queries, and the enhancement of routing capabilities among digital channels using AI. Added intelligence aids both agent productivity and downstream customer experience. The advancements in use of intelligent virtual agents (IVA) are essential to help increase the throughput of customer interactions and effective engagement.
Combination of UCaaS, CPaaS and CCaaS. Cloud vendors have begun blending their offerings for contact centers and other business communications needs. The difference between these types of platforms often have more to do with the role they are serving in the organization than the underlying technology. The next phase of market development is likely to see some consolidation of players and new ways of packaging offerings across these categories, which in turn expands the buying community. It is possible that the next two years will see a move towards broader emerging communications platforms and away from single-purpose applications.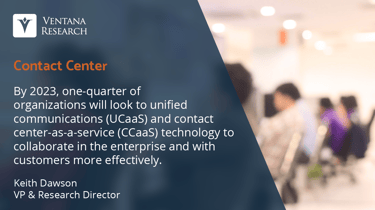 Enterprises will be able to turn communications services on and off with little regard for whether those services are being used in the contact center or in line-of-business departments. We assert that by 2023, one-quarter of organizations will look to unified communications (UCaaS) and contact center-as-a-service (CCaaS) technology to collaborate within the enterprise and with customers more effectively.
More options for serving customers. In the past, increasing the number of contact channels available to customers was largely a function of following customers' leads as they adopted new messaging and social tools on mobile devices. The modern center has a menu of new options available to improve operations, including automated agents built with AI and machine learning that boost the quality of self-service. There are more robust analytics that assess customer behavior and sentiment, and provide agents with better, information, including next-best-action recommendations. Integrated platforms collect all the strands of customer data into profiles that enable more consistent and personalized interactions. These are just three examples of how the modern center can use data and automation to engage customers more intelligently towards the best possible resolution.
Service quality is under significant stress. There is anecdotal but realistic evidence that consumers are waiting on hold longer and hopping more quickly from one channel to another. This poses a risk that consumers will judge service quality harshly during the pandemic transition, even to the point of switching brand loyalties. Knowing this is happening, many companies are pre-emptively alerting customers to alternatives like self-service. But consumers are watching very closely as elements of the customer experience become less reliable. Many elements of the experience - from response times to package delivery to the lack of in-store shopping – have shown strain this year. The contact center is where the tide washes all the complaints and irritation.
Legacy infrastructure is finally being replaced. The movement to cloud-based systems has taken a long time, but this moment seems very likely to be the beginning of the end for premise-based routing. Amazon and Google have built platforms that provide the substrate for many developers to create "basic" contact center applications quickly. With a premium on openness, interoperability and integration to enterprise software tools, the next generation of contact center systems won't focus just on the contact center. Segments like VoC analytics are relevant to marketing and sales teams as well as service groups. When enterprises identify business problems in their CX, they are now just as likely to pull in broader groups of stakeholders to collaborate on solutions, using tools that also cross departmental boundaries.
Organizations should work with their technology providers during and beyond the pandemic to provide guidance aimed at maximizing service levels and customer experiences. They should also look at how to fully exploit the portfolio of solutions that they can leverage to gain the best automation and intelligence from their offerings. Organizations should also continue to scrutinize usage and pricing to ensure they align in value with the use of the vendors and technologies in their deployment.
This black swan event and emergency transition will pass, but it will leave behind an industry that uses its contact centers for more complex and high-value human interactions that rely on automated workflows to enable more customers to help themselves. And perhaps the most important outcome will be an evolution of the CX technologies to focus less on funneling calls to agents and more on making each engagement touchpoint a moment of opportunity and influence the interaction to satisfaction.
Coming out of this pandemic, I expect that the standard toolkit from even long-time contact center solution providers will contain multipurpose applications that knit together the different CX stakeholders and embrace a common approach to customer data and communications.
Regards,
Keith Dawson