When migrating their communications stacks to the cloud, many organizations come face to face with a quandary: do they emphasize the business phone system and gravitate toward a unified communications vendor? Or should they focus on the specific applications needed for running their contact centers and seek out a CCaaS vendor?
It turns out there is a third option, which is to build their own stack using a communications platform as the base upon which to add applications developed internally or through ISV (independent software vendor) partners. This route, known as CPaaS (Communications Platform as a Service), is challenging because of its complexity but may be appropriate for those that rely on internal applications or processes that cannot (or will not) be replaced by off-the-shelf tools.
Vonage is a key CPaaS provider. The company was founded in 2001 as a provider of residential telecommunications and, in recent years, has evolved to offer multiple technologies, including unified communications, contact center applications and communications APIs. Together, they form the Vonage Communications Platform (VCP). Vonage's CPaaS acts as an open environment in which an organization or developer can use the company's APIs to build their own cloud-based applications.
In addition to CPaaS, Vonage also offers dedicated platforms for contact centers and unified communications that allow buyers to sidestep the development process associated with CPaaS should they prefer an end-to-end solution for either use case. All three products are marketed under the banner of VCP but are available as separate, stand-alone solutions.
Vonage recently acquired Jumper.ai, a Singapore-based provider of omnichannel conversational commerce and customer engagement solutions. Jumper.ai brings a set of new capabilities to VCP. It complements the existing communications APIs with a packaged, artificial intelligence (AI)-enabled commerce offering that will be integrated and sold with VCP.
When applied, Jumper.ai's technology will allow organizations to sell products directly to consumers through social and messaging channels. It features an integrated UI for managing social e-commerce, along with capabilities for inventory management, campaign design, multichannel chat, transactions, payments, and order fulfillment. And it integrates with significant third-party applications that many organizations choose to run atop their communications platforms: Shopify for inventory, for example, or Google's AI, or Stripe for payments.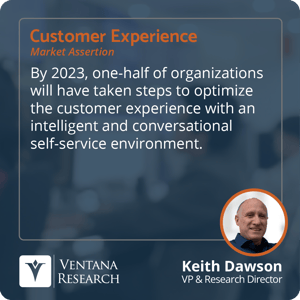 Ventana Research has asserted that by 2023, one-half of organizations will have taken steps to optimize the customer experience with an intelligent and conversational self-service environment. Conversational commerce is a key component in this progression as it enables customers to engage with, and purchase from, companies in a faster, more autonomous way.
Adding Jumper.ai to the mix provides Vonage with a broader palette of applications and integrations to strengthen its communications platform. It adds a great deal of value to the platform overall because of the wide range of integrations and APIs that Jumper.ai brings to the table. It also provides Vonage with an expansion of its customer contact channel options in social media and messaging, along with the pathways for Vonage clients to monetize those channels through e-commerce.
Vonage has been aggressively adding capabilities across its product portfolio in 2021. It released an enhanced video capability for its CCaaS product as well as an AI-powered virtual assistant and updates to the way the platform handles multichannel routing. Vonage also added features to its Microsoft Teams integration. Any brand or online retailer should consider Vonage for their communications infrastructure if they are looking to use messaging as a commerce channel.
Regards,
Keith Dawson