Organizations looking to improve the customer experience and contact center operations should closely examine the processes at work in the front-end self-service environment. Technology advancements are converging at this gateway, including artificial intelligence, chatbots and knowledge management. The front end of the customer interaction offers a greater opportunity for customer engagement than most organizations realize.
Advanced technology has made self-service more widely available, more effective and most important, more intelligent. Intelligence is what makes self-service significantly different from how it was managed and deployed in the past. For example, anecdotal evidence suggests that call deflection rates (the portion of interactions diverted away from agents) are rising, often hitting 50%, depending on the context.
Some technology advances have been remarkable, including:
Speech-enabled systems and similarly equipped chatbots that use AI to expand dialogue for a much wider range of conversational options.
Knowledge management systems, often tasking that same AI technology to provide a much deeper reservoir of information customers can use to help themselves. Knowledge is more likely to be consistent across the enterprise and available in different formats depending on context (e.g., videos, documents, product information, etc.).
Knowledge resources for agents, building from the customer application. These systems supply agents with information that is consistent with that received by the customer. Even better, the information can be used to suggest steps agents should take during interactions.
And a self-service infrastructure for agents, repurposing consumer systems. Agents use the application to self-schedule breaks, training and various human resources' functions.
Advanced self-service is more likely to be multimodal with longer-lasting interactions. It may also seem less like "service" to the customer and more like the process of searching or shopping. That ultimately leads to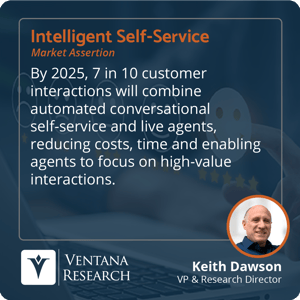 greater engagement with the customer, including more agent involvement that comes at a different point in the buying/service process and requires a different skill set than typical first-tier support. We assert that by 2025, 7 in 10 interactions will be a combination of automated conversational self-service and live agents, reducing costs and enabling agents to pivot from triage mode to managing higher-value interactions and high-value customers.
Our assertion highlights a key premise of intelligent self-service (ISS), which is that it shouldn't necessarily be the goal to use it as a replacement for agents or traditional live service. The better ISS gets, the more it will be embedded into broader service processes that include agents, potentially back-office workers and automated systems. This is not a bad thing, but it is a complicating thing.
Within short order, it will be standard practice to deploy AI-based knowledge resources for a dual use case: real-time agent guidance and cost-reduction via deflection. Organizations are exploring the use of self-service tools for upselling and cross-selling, loyalty building, problem management, transaction processing, surveys and voice of the customer feedback. Intelligence added to self-service provides an opportunity to use contact center technology to enable other CX teams (especially marketing) with more or better data on sentiment, loyalty and customer value.
The self-service environment is also becoming a potential testing ground for contact center operations professionals to learn and develop best practices for working with AI and automation across use cases. This includes use cases beyond front-end customer interactions.
All that enthusiasm aside, the market has so far been defined more by the technology coming online than by its uses and benefits. There is an opportunity for contact center vendors to educate buyers on both the technology's capabilities and contours and the way these tools are implemented in real life.
Contact centers are still very conservative business units, skeptical of big technology transformations that could disrupt critical operations. That suggests that vendors should integrate advanced self-service tools into core contact center platforms (especially those offered via cloud services). Buyers need vendor support to understand the use cases and value of deploying AI and other forms of automation across their centers.
Organizations are realizing that growing customer expectations require more attention to the way people interact with automated systems and how they transition from automation to live agents. Most organizations are still using self-service as triage – a lower-cost method of handling excess volume without spending more on agent headcount. This is still a valid way of viewing its key benefit, especially as deflection rates go up.
The industry is in a transitional period, with technology advancement running ahead of deployment in many cases. Organizations still need to be persuaded of the need to shift from thinking about customer experience reactively to thinking proactively. Technology change may be a moving target, but at this moment it's possible to get exposure to multiple streams of advancement within a relatively contained environment that provides demonstrations of the technology's value and of the advantages of using the front-end as a more complex CX development process.
Buyers (and their vendor partners) should look at the self-service environment with new eyes. They can easily see the deflection-based cost-savings benefits. They should also be considering how what happens in self-service changes customer behavior and loyalty, potentially generating revenue and better overall outcomes. And then they should consider how the underlying technology enables a richer suite of use cases that impact workers, agents and cross-departmental processes.
Self-service is not just a way of getting customers to do the work of agents. It's a way of using customers' existing desire to help themselves broaden their exposure to the organization's messages while lifting their value across their life cycle. There should be more conversation in and around contact centers about using intelligent self-service as the tip of the spear for CX initiatives.
For more information about how contact center technology is changing the nature of CX, explore our Customer Experience expertise area, including our new focus area on Intelligent Self-Service.
Regards,
Keith Dawson