Business phone systems and contact center platforms received renewed attention in 2020 as organizations acquired tools for agents working from home. That put the spotlight on vendors, like Avaya, that have feet in both worlds. Since both forms of communications technology are well-suited to the cloud, Avaya has developed its Unified Communications as a Service (UCaaS) and Contact Center as a Service (CCaaS) portfolios in parallel. The effort has borne fruit, with significant product enhancements notched recently. Ventana Research asserts that by 2023, one-quarter of organizations will to UCaaS and CCaaS technologies to collaborate in the enterprise and with customers more effectively.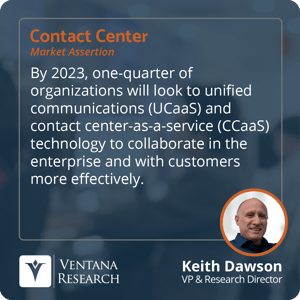 Avaya is one of the largest and longest-lasting telecom equipment and service providers in the world. The company has 5 million contact center seats under license worldwide. Avaya's OneCloud experience platform includes UCaaS, CCaaS and other services. In early 2021, Avaya announced notable enhancements to OneCloud's artificial intelligence capabilities, including machine learning algorithms powering Agent Assist features, deeper customer interaction analytics and virtual agents. These features were built to integrate with Google's Cloud Contact Center AI toolset.
Both agent management and AI features have emerged as important differentiators among CCaaS providers. Better and more varied workforce tools became urgently needed during the pandemic and are expected to play a critical role in reshaping the customer experience industry as it shifts from voice-based to a blend of voice and digital interactions. AI is being embedded in many applications, with multiple use cases related to agent performance and self-service.
For understandable reasons, supporting business continuity and the related health and safety issues with managing and operating agents who work from home has been a key focus of many vendors like Avaya, for both their own employees and operations, and in support of their customers' efforts to respond to the pandemic. The Avaya OneCloud offering is built to run atop any of the major cloud platforms: AWS, Azure or Google Cloud. The company's Cloud Office unified communications toolset is built on RingCentral's open platform, which makes RingCentral the exclusive provider of UCaaS solutions to Avaya. The company has been leaning heavily into features tied to ease of use and administration, and blending digital and voice interactions. These features are at the top of modern buyers' want lists.
Avaya has an enormous, loyal, on-premises customer base for its contact center technology. It is likely that most of these premises-based deployments will consider a move to the cloud during the next buying and upgrade cycle. The buying cycle for contact center tools has shortened over the past decade from about 7-10 years down to about 3-4 years, and in many cases less, depending on which aspect of the technology is under consideration. The pandemic has accelerated the process and created an opportunity for Avaya to showcase its cloud portfolio. This, in turn, has enabled it to solidify a stronger, cloud-based market position, assuming it can transition its premises-based seats to the cloud without shedding market share. The large global footprint that Avaya has historically had in contact centers gives the company a great deal of experience in every vertical market and among centers of any size. Buyers should be thinking about Avaya as a solid player with deep expertise and a full-featured technology portfolio.
OneCloud was first introduced to the market in 2020, following several iterations of cloud contact center development. With this release, the company has assembled all of the necessary components that are core to a modern, multichannel contact center: interaction routing based on skills, workforce engagement (including a unified agent desktop), and self-service features. Many of its capabilities are enhanced with AI, notably the Agent Assist features. In addition, users can develop or extend their own tools using other OneCloud components, UCaaS and communications platforms as a service. The door appears open for Avaya to offer OneCloud as a communications and customer management toolset that functions across departments and personas.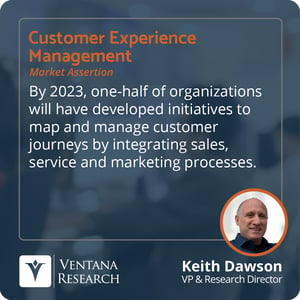 Ventana Research has asserted that by 2023, one-half of organizations will have developed initiatives to map and manage customer journeys by integrating sales, service and marketing processes. This is taking shape in the form of broad-based CX suites that gather the operational software for contact centers, along with the voice and digital interaction handling, into platforms that serve a wider audience of user personas across departments. The move to such CX suites is a strong place for Avaya to continue to incorporate its ongoing development efforts to support AI, machine learning, analytics and other functions that transcend the contact center buyer and the larger audience of Chief Customer, Chief Experience, Chief Digital Officers and other business leaders.
Avaya often wins a spot in request for proposal deliberations based on historical context and the size of its installed base, particularly for premises-based products. Going forward, the cloud brings it much more diverse and fast-moving competition. Organizations should be considering whether the reasons that brought Avaya success in the premises world carry through into its cloud offering, and whether it can compete on the intangibles that will ultimately drive CCaaS competition: CX, and the focus on reliability, manageability and the speed to market on innovations.
For more insights into the changing nature of the contact center buyer, see the Ventana Research Analyst Perspective, The Opportunity for CX is Beyond Your Contact Center as well as the rest of the Customer Experience expertise area.
Regards,
Keith Dawson